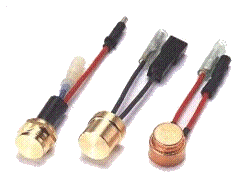 CW-7 SERIES:
FEATURES
These thermostats were developed for protection of an automotive air conditioner compressor. These devices satisfy anti-vibration and environmental sealing requirements. There are two different types of thermostats; one uses a silver alloy contact and the other uses a gold clad contact. Other uses include sensing clutch loads and low amperage controls.
THREADED MOUNTING TYPE (CW-7A)
This type is screwed directly into the compressor housing.
DIRECT SENSING TYPE (CW-7AM)
This type is used for fast thermal response in sensing coolant temperature.
INSERT SETTING TYPE (CW-7B)
The CW-7B utilizes a copper body for good thermal response.