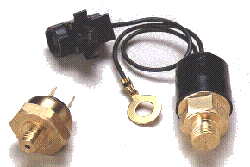 PS-17 SERIES:
FEATURES
These are pressure switches developed for use in automotive air conditioner compressors. There are two kinds: low pressure and high pressure.
SMALL SIZE, LIGHT WEIGHT, ECONOMICAL
Designed to be small in size, light in weight and very economical, this switch is available in a wide range of activation pressures.
DIRECT COUPLER TYPE
This type has quick connect terminal. Parts for connection have been designed for lower cost.
EASY TO MOUNT
Each switch can be mounted simply by inserting it in the compressor housing, putting on the O ring and applying the C snap ring.